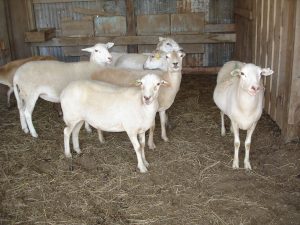 Our Katadin "hair sheep," crossed with the Dorper breed, are fed hay, white salt, and alfalfa as well as wheat and barley grass fodder and, of course, our abundant warm-season prairie and cool-season grasses. They rotate through our pastures behind the cattle for grazing, occasionally sharing pastures at the same time.
Because the sheep love weeds and other plants that the cattle do not, they provide a complementary grazing system that further enhances our pastures. Thanks to the sheep and other animals, our pastures require very little maintenance and are not sprayed with toxic chemicals. Thorned, non-edible woody brush species that may invade are treated individually using a variety of techniques.
During the recent drought, the sheep have been fed supplemental amounts of grain (non-GMO whenever available). As our wheat and barley grass hydroponics system comes on-line, grain will be phased out of their diet. Like our cattle, our sheep do not receive preventive antibiotics or added hormones, and are processed locally.
A note about out of stock items
Some of our items are temporarily marked "out of stock" but will soon be available. Delays with processors have been a big factor in this. While demand for locally sourced meats has been on the rise in recent years — a positive trend we welcome — the consequence is that small independent processors face challenges in keeping up.
Fall processing has begun and soon we will be picking up beef and lamb. We apologize for the longer wait times but encourage you to join our waiting list to receive early notice when products are ready.